Y News:

Remembering Peg Owen

Dear YMCA Members and Friends,

It is with much sadness that we inform you of the passing of Margaret "Peg" Owen on February 2, 2021.

Peg, who retired in April 2019, was a beloved fitness and swim instructor and a bright light at our YMCA for more than 50 years. She was also a groundbreaker. Her YMCA accomplishments are highlighted below.
MEMORIAL CONTRIBUTIONS
Peg's family has generously selected the Carlisle Family YMCA to receive memorial contributions in Peg's memory. If you would like to make a contribution, click the button below.
MAKE A MEMORIAL CONTRIBUTION
OBITUARY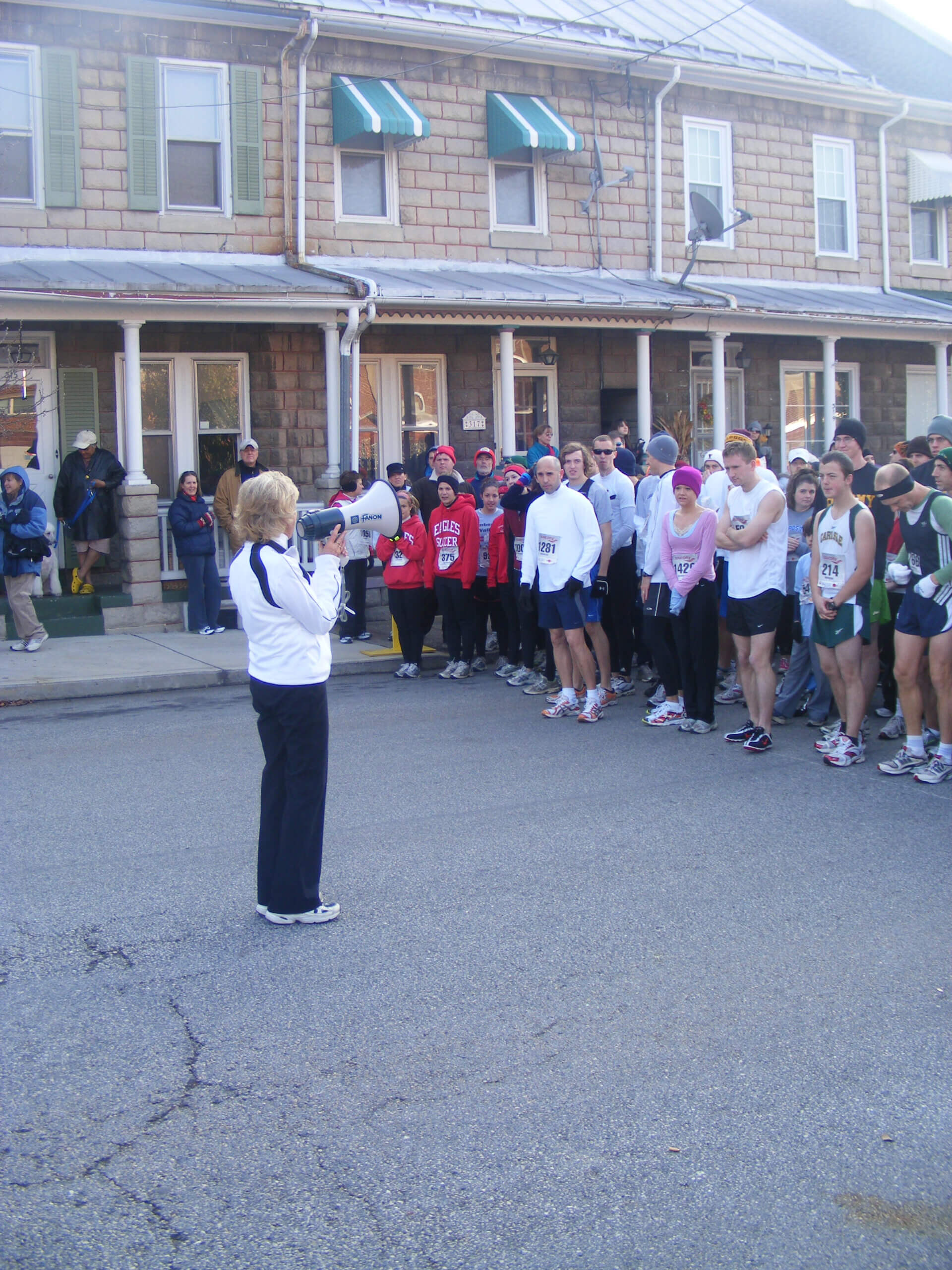 2018 STAFF LENGTH OF SERVICE AWARDS RECOGNITION
Recently I googled major events for 1968. I learned that 1968 has been identified as one of the most historically significant years on record. Perhaps some of you remember these events:
Both Robert Kennedy and Martin Luther King were assassinated
The Civil Rights movement was in full swing. You may recall athletes holding silent protests during the summer Olympics.
Apollo 8 orbited the moon for the first time.
Lynden B Johnson was president and Richard Nixon would be elected in the fall.
Our military was fighting in the Vietnam War.
Tensions were high between the U.S. and North Korea due to North Korea capturing our ship the USS Pueblo.
The concept of gender equality was just taking hold in our country.
Another significant event occurred locally that year. A young woman began working at the Carlisle Family YMCA as a lifeguard and swim instructor. She was the first YMCA female program employee. Her name was Peg Owen.
At that time Y members were male and Peg's employment caused quite a stir. Oddly, it was common for members to swim in the nude. After some embarrassing encounters for all concerned, the Y started posting a sign to warn the men and boys when the female lifeguard was on duty. Not everyone accepted this change with grace.
In 1968 it was Margaret "Peggy" Owen who shattered the glass ceiling at the Carlisle Family YMCA—a real turning point in our YMCA's history.
Why was this remarkable?
As a result, in the late 60s programs for girls and women were introduced, women were allowed to become YMCA members, the number of female employees grew and women would eventually serve on the Board of Directors.
By 1973—a mere 5 years after Peg started working at the Y—females made up 33% of the Y's membership base.
Today:
We employ 3 females compared to every 1 male.
Women and girls make up 51% of our membership (males 49%).
And women hold leadership positions throughout our organization.
When Peg was asked in the early 80s what her duties were, she answered:
Promote all the programs the Y offers.
Provide high quality programs that will help people become more fit.
Be open to new ideas to keep the Y vital in the community.
It was a great answer then and still relevant today.
Peg has worked for six different executive directors, taught countless children to swim, organized dozens of events, races and sports leagues over the years. Do you recall the Downtown Mile, the Jingle Bell Run and of course you all know the CenturyLink Turkey Trot. Peg was there in the beginning for all of these events.
Peg isn't just a Y fitness class instructor, she brought the era of "aerobics" to our YMCA. When aerobics classes were first offered members had to register for each class. The registration line would form on the second floor office window, wrap around the corner, down the steps and out the door.
Over time Peg added many programs to her list like Step, Slide, Fitness Frenzy, Spinning, Healthy Back, CPR, You and Me Baby and so many more. She served as the racquetball league coordinator, the fitness class coordinator and the babysitting program coordinator. If you needed someone to be open minded and take on a new project, Peg was the one to ask. Peg continues to teach several fitness classes each week.
Outside of the Y, Peg has been active in her church, with the United Way, working with special needs children and many local organizations. For her efforts she was recognized several years ago by The Sentinel as Carlisle's Finest Community Service Employee. We are so fortunate that she chose the Y as her workplace.
We would be remiss if we didn't also remember Peg's late husband, Jack Owen. Like many Y spouses, he was often at her side as a volunteer for all those special events. And according to Peg, Jack never complained when she had to work evenings, weekends or substitute for someone else on short notice. It just came with the territory.
They often volunteered together for many worthy causes. For their YMCA service they were each awarded the Adult Service Award and as a couple the Doris Condit Service Award.
Peg has been an integral part of our history, she has touched countless lives through her service and she has created a legacy that will be unmatched by those who follow.
I have personally recognized Peg for 25, 30, 35, 40, 45 years of service so I apologize if some of this sounds a bit familiar.
Peg, we thank you for being a trailblazer for women at the YMCA. It is my privilege to honor you for 50 years of service.
-Marcia Drozdowski, Chief Executive Officer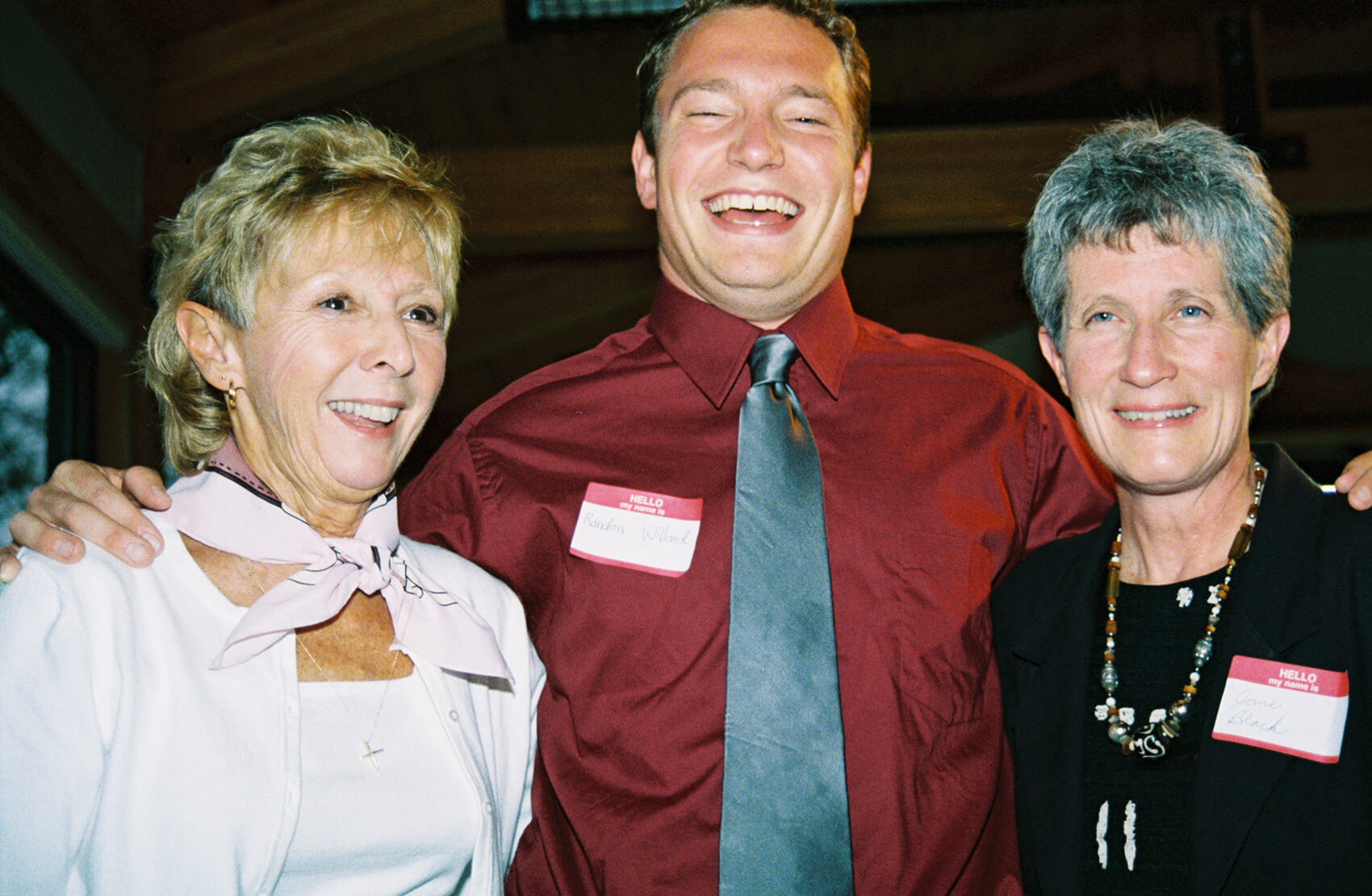 Dedicated. Inspirational. Ground Breaker.
The above three characteristics are how Peg Owen would be described by anyone who knows her. She has dedicated 50 years of her life to teaching, motivating and leading family, friends and Y members to live healthier lives through exercise and healthy eating. She has inspired change and growth at the Carlisle Family YMCA by implementing numerous fitness classes and special events, as well as directing countless races. Not only was Peg the first female member at the Carlisle Family YMCA, but she also was the first female employee. Fifty years later Peg Owen still instructs, and packs, her four scheduled classes. That is a ground breaker.
Please accept this letter of recommendation for Peg Owen as Professional of the Year. I am nominating Peg for this award as she embodies the definition of health and fitness—from the way she lives her own life to how she conveys the importance of exercise and healthy eating to the members of the Carlisle Family YMCA and the Carlisle community.
-Jay Cattron, Health & Wellness Director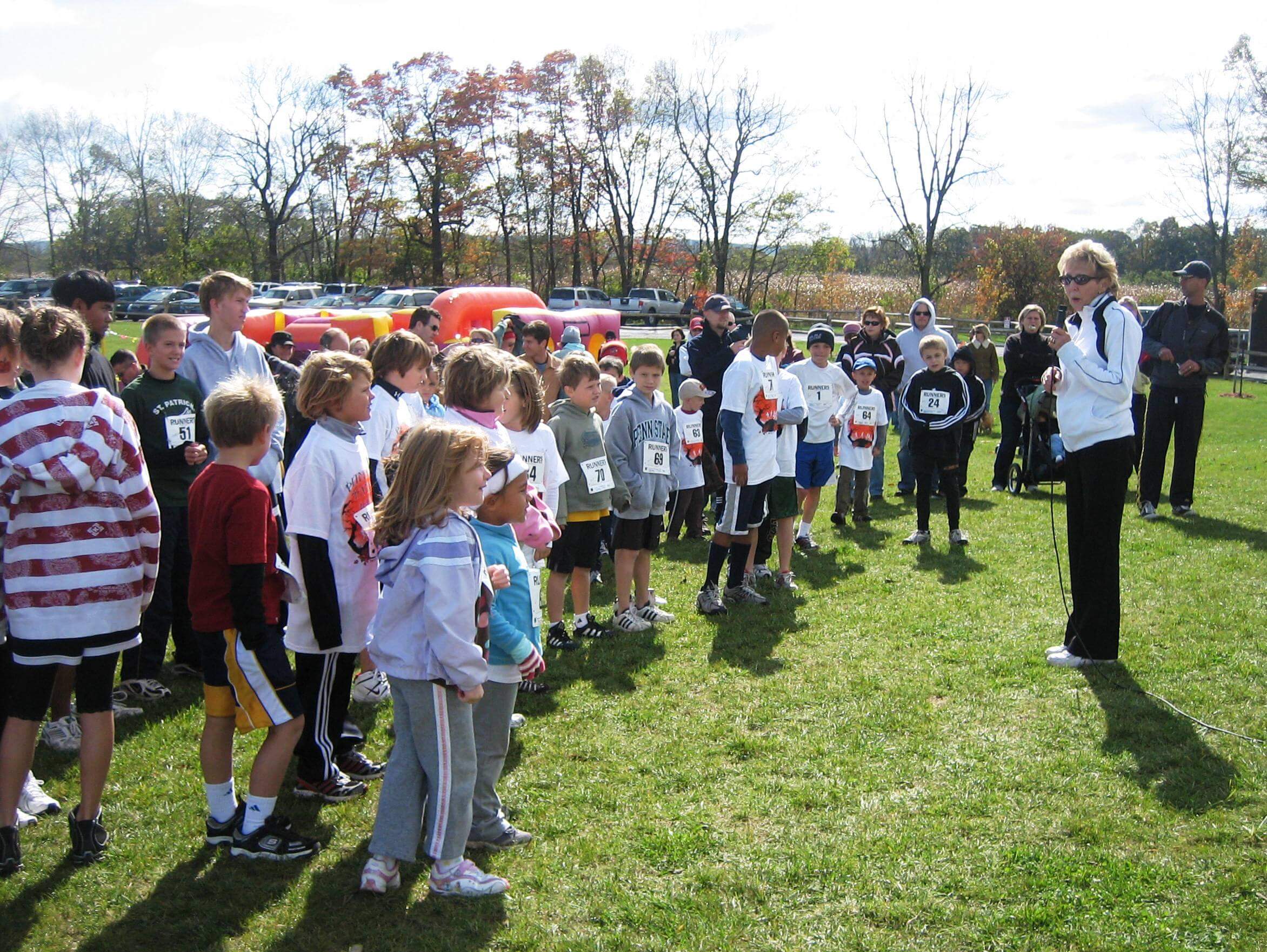 An Interview with our Y's first female program employee — Peg Owen
1968 was a remarkable year in the history of the United States. Robert Kennedy and Martin Luther King Jr. were assassinated, the Civil Rights movement was in full swing, Apollo 8 orbited the moon for the first time, our military was fighting in the Vietnam War and the concept of gender equality was just taking hold in our country.
In our hometown of Carlisle, PA another significant event occurred that year. The first female program employee was hired by the Carlisle Family YMCA. Many of you know her, she is an icon at the Y and has touched countless lives through her years of service. Fortunately for me, I was given the opportunity to sit down and talk with this amazing woman who has made such a marked difference in the history of the Y. She is none other than Peg Owen and here is a glimpse of her fascinating history.
JS: Peg, you are an integral part of the Carlisle Family YMCA's history, an icon and an inspiration to others. This year you are celebrating the awesome milestone of 50 years of employment at the Y. Congratulations!
PO: Yes, I have been playing for 50 years! I love it! The Y is home to me. I have so many friends here. I love teaching classes and the people I teach. They are all so much fun! It's been an incredible experience.
JS: When you were hired in 1968, you were the first female program employee at the Y. How did you come to find employment at an all-male establishment?
PO: I was a swim instructor in Chambersburg before my late husband, Jack, and I moved to Carlisle. I had been teaching since the age of 12 and wanted to continue to do so. I had heard that the Y wanted to begin offering swim lessons, so I approached administration and was hired.
JS: You were quite the trailblazer for women at the YMCA. I am certain the concept of females at the Y was stunning for many. Did you deal with a lot of resistance from the all-male membership?
PO: The men were not happy with my presence at the Y. When I was teaching they would come on deck with no clothes on. My students were very little children at the time and this was inappropriate and embarrassing for both me and the kids. I approached the men and told them they needed to wear swim suits when I was in the pool area. They listened to me but only after expressing displeasure and a little door slamming.
JS: I am curious, were any special accommodations made for you as a female employee in a predominately male environment?
PO: No, not that I recall. A women's locker room was already there for me to use. Eventually they did post a sign outside the pool area letting the men and boys know when a female was on deck so that they could be dressed appropriately.
JS: 50 Years of service provides a great opportunity to enjoy many different employment experiences. Tell me a little about all the various roles you have held over the years.
PO: Oh my yes, I have had a few different jobs! (Peg giggles) I'll try to remember them all. I began as a swim instructor and lifeguard. I taught swim lessons not only to the local kids but also for the Capital Area Intermediate Unit students. When the group fitness class craze began I became the first Aerobics Instructor for the Y. I thought it sounded like fun and was willing to give it a try. I helped to organize the first YMCA run, which had 70-75 runners, and assisted with many other races after that including the premieres of the Downtown Mile and the CenturyLink Turkey Trot, both of which are now popular traditions in the Carlisle community. I remember before computerized registration Jack would do all the paperwork for the races, it was a family affair. Registration was all by hand, numbering bibs, spreadsheet for results, etc. Times have changed! I served as the racquetball league coordinator, the fitness class coordinator and somewhere along the line I also became the baby-sitting room coordinator.
JS: Is there any job at the Y that you haven't gotten to do that you think would be fun? Maybe accounting?
PO (laughing): No, that would not be fun. I can't sit still long enough for a desk job. I have been moving, running and biking for as long as I can remember. I played outside all day when I was a kid and I am still playing today. I do take my job very seriously though and continuously monitor my class participants' body positioning and mechanics to assure injury prevention. The Y has sent me to many workshops over the years to help me stay well educated on proper form and new techniques. I am very grateful to the Y for doing this.
JS: I can remember taking your step aerobics class with my mother almost 20 years ago. I could barely keep up with you! Some of the women that were in that class with me, I see leaving your classes today. How have you been able to keep it interesting for the same participants over the years?
PO: A lot of the ladies in my class have been joining me for years. We are a family. I even have retired fitness instructors who no longer teach taking my class. My classes have changed over the years depending on current trends. For example, I no longer teach Step Aerobics. It is too hard on the joints and no longer a recommended style of fitness. Some of the classes I have taught over the years have included Step, Slide, Fitness Frenzy, Spinning and Healthy Back. I designed my current classes; Fit Forever, Muscle Magic and Anything Goes.
JS: Working at the Y must have a very significant meaning to you since you have stayed for 50 years.
PO: It's a second home. It doesn't matter what you do when you get here, someone will always embrace you. People gather together and socialize and are very inviting. I love the fact that the staff all support each other and are willing to help anytime there is a job to be done.
JS: As you know the Y has been a part of the Carlisle community for over 150 years. Why do you think the Y is still such a vital part of our community?
PO: I believe it is because of leadership's passion and belief in what they are doing. They believe in the mission, want to make a difference in the lives of others and have a strong vision for the future for the Y. I also believe that the Y is still around because it is available for everyone in the community. It brings the kids in off the streets and doing something constructive that will better them as they get older. Getting the kids into the Y was the best thing we started doing. The Y would not have survived if it was still a men's only organization. The Y is also good at changing with the times and being flexible in their programming to respond to the changing needs of the community. The creativity of the staff and Leadership's willingness to embrace new ideas has kept the Y relevant in our community over the years.
JS: You are an amazing role-model and have created a legacy that will be unmatched by those who follow! What an inspiration! When you started working at the Y did you have any idea you would be paving the way for future female employees and members of the Y, shattering the glass ceiling?
PO: I appreciate you telling me that and other people say that to me as well, but I look up to them too. Everyone does something for the Y. They come here with a purpose beyond exercising and leaving. Our members and employees have heart and a passion and desire to do good. That's why they come to the Y instead of any other facility. It's been a delightful journey! I am honored to be an employee here and will hopefully be here for many years to come.
-Jeanna Som, former Y employee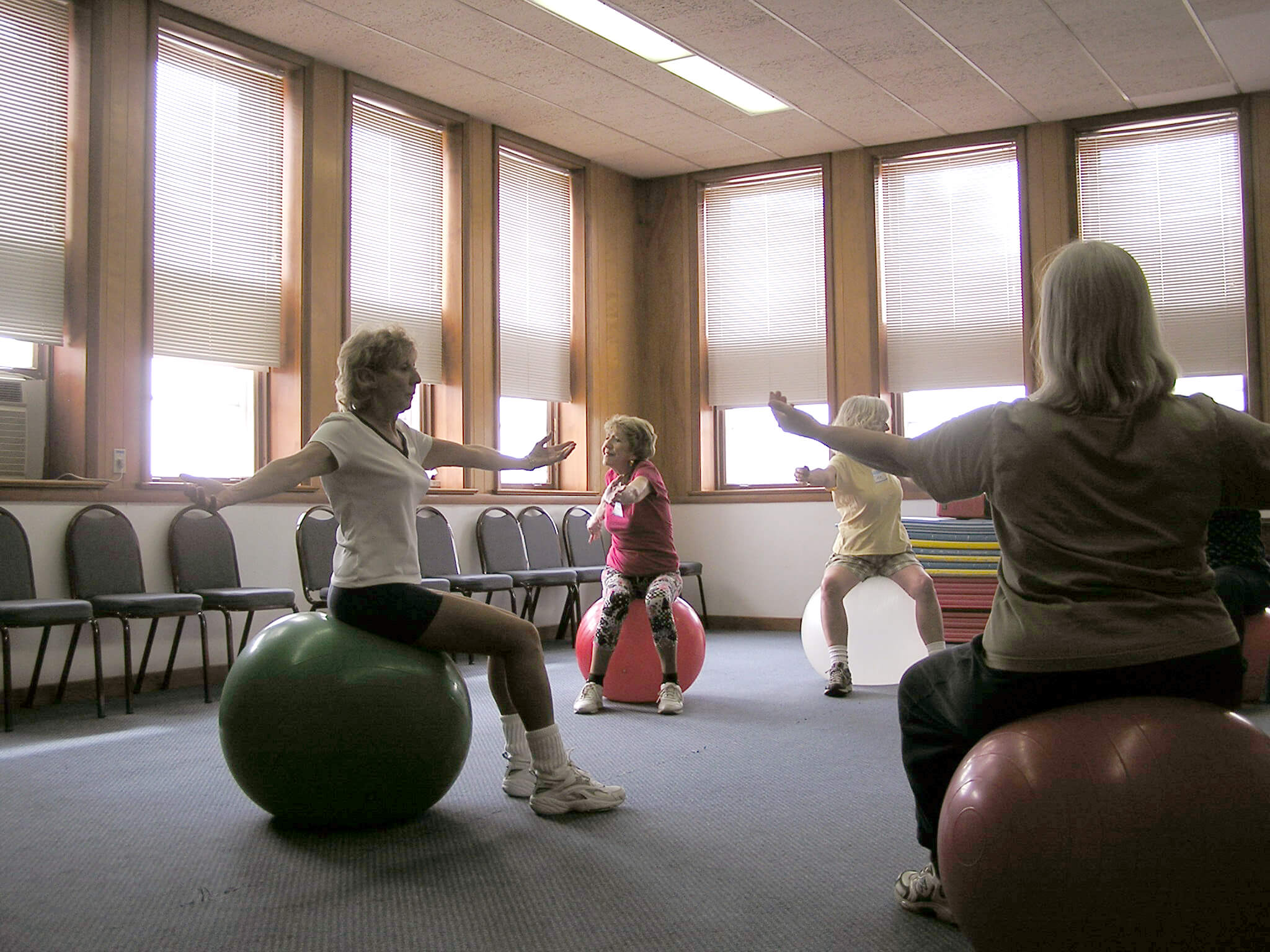 STAFF AND BOARD TESTIMONIALS
She was a special person to me…a mentor, a role model, a woman full of energy who cared deeply about the YMCA, her job as a fitness instructor, her students and her community.
-Cecelia Clippinger, Group Fitness Instructor
<<<<<<<<<<
Peg was always a delight to work with. Ready with a smile, she was very helpful when I started work at the Y. A lot of us used the Prescott Room for classes, and I remember the floor was not in good repair. Peg took action…it was fixed and really improved the room for us all.
-Jim Mader, Personal Trainer and Group Fitness Instructor
<<<<<<<<<<
I have fond memories of swimming in the pool at their house. Peg and Jack were amazing people!
-Jessica, Board Member