Y News:

InBody Body Composition Analyzer is Here!

Step off the old school scale and hop onto InBody. This 45-second full body BMI scan will not only give you weight, but also several other outputs like Body Composition, Muscle – Fat Analysis, and Water Weight. This analyzer does not use empirical estimations based on age, sex, ethnicity or body type. Instead, Direct Segmental Multi-Frequency BIA technology measures body segments separately for an accurate analysis based on your unique body.
BEFORE YOUR FIRST SCAN
Before even stepping on the InBody analyzer, we recommend downloading the InBody App. You can start by just stepping on the InBody, but the process is significantly more involved. So click the Apple or Android button below to download the app first.
APPLE USERS
ANDROID USERS
Once downloaded, open the app and follow the prompts to set up your account.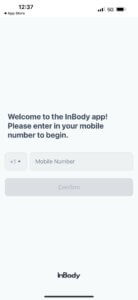 After entering your phone number and email address, you will get an email from InBody to confirm your email address.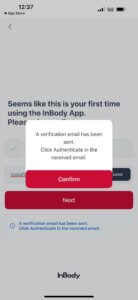 After verifying your email, you will be asked to create a password and then enter your date of birth, gender and height.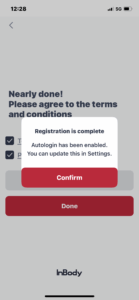 Once finished, click the confirm button.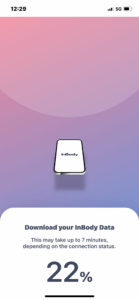 It will attempt to download your InBody data, but since you have not performed a scan yet, you should see the screen below: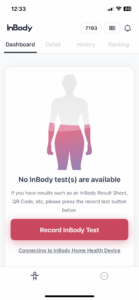 Now you are ready for your first scan!
YOUR FIRST SCAN
Step on the InBody as shown below and stand still while it calculates your weight.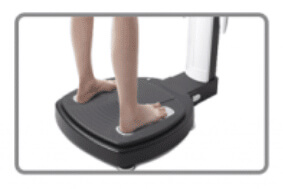 After it displays your weight, it will ask you to input your ID as shown below: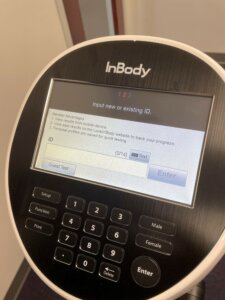 Enter your phone number and hit the enter button. Then you will have to enter the following information on the console: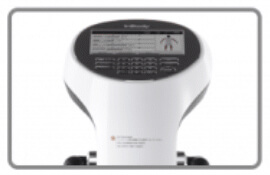 Then accept the Privacy Policy and Terms of Service.
Now you are ready for the full body scan. Follow the audible prompts to initiate the scan.
Place your heels on the metal circles.
Grab the handles and place your thumbs on the sensors as shown below.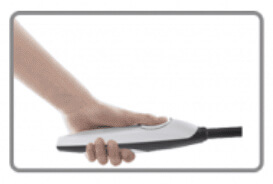 Keep your arms straight and hold them so they are not touching your torso as shown below.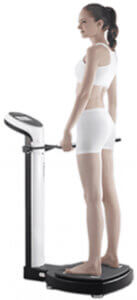 Stand completely still without talking during the scan. It takes about 1 minute to complete your scan.
GETTING YOUR RESULTS
After your scan is completed, you will see some basic stats on the screen. For more detailed data, go into your app and refresh it and click on the "Details" tab.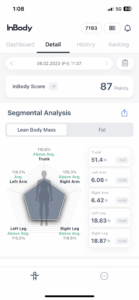 You also have the option to set goals within the app.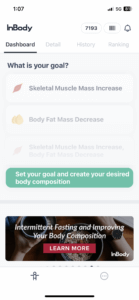 Click the button below to access the 570 Result Sheet Interpretation site that provides a lot more detail about the data points the machine captures and what that data means.
INBODY RESULTS INTERPRETATION
The InBody Body Composition Analyzer is located beside the scale in the Cardio section of the Wellness Center. Please be sure to wipe down the handles and foot sensors after your scan.