Coronavirus Updates
MASK MANDATE UPDATE
May 14, 2021
As you are aware, since reopening our facilities in June 2020, we have followed both CDC and Pennsylvania Department of Health guidelines related to COVID-19 safety protocols. We thank you for your support throughout this time.
Late on May 13, the CDC announced that individuals fully vaccinated for COVID-19 no longer need to wear a mask while indoors. Shortly after the CDC announcement, the Pennsylvania Department of Health announced that effective immediately, anyone fully vaccinated for COVID-19 is not subject to the state Mask Order, which remains in effect until 70 percent of Pennsylvanians are vaccinated.
In accordance with this announcement, beginning Friday, May 14, members, program participants and staff of the Carlisle Family YMCA who are fully vaccinated may utilize our facilities and participate in programs without a face mask.
Fully vaccinated is defined as:
2 weeks after the second dose in a 2-dose series, such as the Pfizer or Moderna vaccines, or
2 weeks after a single-dose vaccine, such as the Johnson & Johnson vaccine
If you do not meet the above requirements, you are not considered fully vaccinated and therefore are required to continue to wear a mask when inside a YMCA facility and when outdoors on our grounds when social distancing cannot be maintained. We are counting on the integrity of our Y community to follow this guidance based on their vaccination status.
In honoring our Y core value of respect, with regards to our fellow Y members/staff, please remember individuals may continue to wear a mask because they are mid-vaccine or as an extra precaution. If you have any questions regarding the mask order while accessing the facility, please see the front desk or any Y management employee.
We will continue to ask everyone to answer our COVID-19 screening questions upon entry into the facility, maintain social distance around our equipment and group exercise spaces, use our reservation system and apply our enhanced cleaning practices. These additional safety precautions will remain in effect until the Pennsylvania mitigation orders have been lifted on May 31, 2021.
CHILD CARE EXCEPTION
In compliance with our most recent mandate from DHS, face masks still are required in all licensed child care areas.
All Child Care staff and families must remain masked when entering and exiting the facility.
The safety of our members, participants and staff remains our top priority. We will continue to uphold COVID-19 safety guidelines from the CDC and Pennsylvania Department of Health. We appreciate your care and respect for your fellow Y members as we continue to work together to maintain the safest environment possible.
SAUNAS NOW OPEN
April 19, 2021
Members can use the saunas in the new Women's Locker Room and the Men's Locker Room beginning Monday, April 19. The steam room in the Men's Locker Room will remain closed.
We are limiting the capacity to 2 people at a time. While we will not have staff in the locker rooms to monitor this, we trust that everyone will comply with this restriction. If we receive complaints that more than 2 members are using the sauna at the same time, we will be forced to close them again.
Thank you for your cooperation.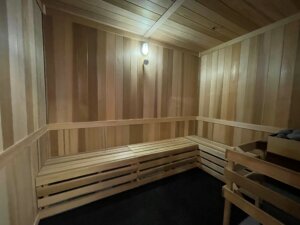 March 30, 2021
We recently revisited our current protocols in some areas of the Y and made the following updates: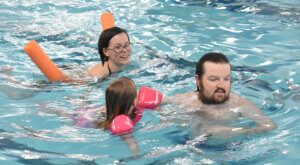 REC SWIMMING CHANGES
We are making two changes to our Rec Swimming Protocols:
KEEPING KIDS SAFE IN THE POOL!
During Rec Swimming, children ages 12 and under must wear a color wrist band that matches their swimming ability:
Red = under 9 and non swimmer (parent must be in the water with them at all times)
Yellow = 9 and over but cannot swim (stay in the shallow end)
Green = swim anywhere (if under 9, a parent must be on the pool deck with them at all times)
When you check in you will pick up the appropriate color wrist band at the Welcome Center, according to the child's most recent swim test in our system. If the child has not taken a swim test, he or she will be given a red or yellow band based on age. Children can test out of their current level by seeing the lifeguard on duty before swimming to take the swim test*.
If a child enters the pool area without a wrist band, he or she will be asked to go back to the Welcome Center to get a band before swimming.
*The swim test consists of swimming 1 length of the pool with rotary breathing and treading water for 1 minute in the deep end of the pool.
Questions? Contact Aquatics Director Tara Young at tyoung@carlislefamilyymca.org or 717-243-2525 ext 210.
REC SWIMMING RESERVATIONS UPDATE
You do not have to be in the same household to reserve the pool for Rec Swimming. Please note that there is a limit of 6 people per reservation slot. If you have 10 people in your group, you need to reserve two slots for Rec Swimming or 4 of the people in your group will not be able to swim.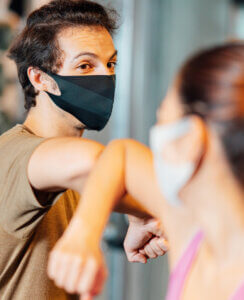 GUEST POLICY UPDATE
We are allowing members age 18 and up to bring guests age 18 and up to the Y. No members under age 18 can bring a guest and no guests can be under age 18.
Stop at the Welcome Center to pay the guest fee when you arrive and it will be good for two consecutive days. Guests also have to sign our COVID waiver.
If a guest will be swimming laps, the member must reserve 2 spots.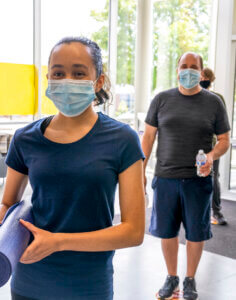 NATIONWIDE MEMBERSHIP
Members from other Ys now can use our facility. All nationwide members must sign our COVID waiver. Please note that just because we are resuming this aspect of membership, this may not be the case for every Y. For instance, Harrisburg YMCA branches are only allowing Wellness Center and lap swimming use. We recommend contacting any Y in advance that you plan to attend to find out about their current availability. Learn more about Nationwide Membership.

BASKETBALL UPDATES
Please note the following changes to our basketball gym reservation protocols:
You do not have to be from the same household to play on the same basketball court. One person can reserve one of the four courts and 5 other Y members can play on that court with them. At no time should there be more than 6 players on each court.
If the people on the courts directly across from each other want to play 5-on-5, that also will be allowed.
Please note that everyone still must wear a mask over their nose and mouth at all times. And you still must be at least 12 years old to be in the gym without a parent or guardian.
DID YOU KNOW?
A cancellation link can be found at the bottom of your confirmation email for the following reservations:
LAP SWIMMING
REC SWIMMING
IN-PERSON CLASSES
VIRTUAL CLASSES
If you need to cancel your spot and it is more than 1 hour before the start of the class or session, just click the link and follow the prompts so someone else can claim your spot.
<<<<<<<<<<<<<<<<<<<<<<<<<
February 19, 2021
BASKETBALL GYM PROTOCOLS
The four baskets on the sides of the gym are open by reservation only.
As mandated by the PA Department of Health, a face mask / covering MUST be worn over your nose and mouth at all times while in the gym.
Families or individuals age 12 and up can reserve a basket one day in advance in 30-minute intervals for up to 1 hour per day.
Families and individuals MUST stay on the court at the basket they reserved the whole time. Mixing with groups on the other three courts is not allowed. If you do, you will be asked to leave.
Groups of friends cannot reserve the same basket. Everyone must reserve a separate basket and stay on their own courts. If you don't, you will be asked to leave.
Parents cannot drop off children 11 and under in the gym. Parents must stay with their children the whole time.
No equipment is available for members to use. You must bring your own ball.
Members who do not abide by these protocols will be asked to leave and will not be allowed to use the facility at this time.
HOW TO RESERVE A COURT
Click the "Schedules" link on our website and then click the red "Gym Reservations" button. Log in or create an account. Select the date you want to reserve. Choose the court and time you want to reserve. Make sure to select 30 or 60 minutes.
MASKS ARE MANDATORY
Please note that masks are still mandatory in all areas of the Y, even during exercise and sports.
IN-PERSON & VIRTUAL FITNESS CLASSES AVAILABLE
In-person group fitness classes have resumed in the former Adult Fitness Center. We also continue to offer virtual classes. Please note that pre-registration is still required for all in-person and virtual classes and all classes are for members only. Registration closes 15 minutes before the start of in-person classes and 2 hours before virtual classes. Click here for the schedule.
24/7 NOW AVAILABLE
24/7 Access is available to members age 19 and up who have signed up for this extra service. Please continue to use the 24/7 Access Door on the Arch Street side of the building and follow the signs through the former Adult Fitness Center to the new Wellness Center.
ADULT WAIVER
MINOR WAIVER

DO WE HAVE YOUR CURRENT E-MAIL ADDRESS ON FILE? SEND US A MESSAGE TO CONFIRM YOUR E-MAIL ADDRESS TODAY.
FREE VIRTUAL WORKOUT OPTIONS
MEMBERSHIP TERMINATION FORM
If you need to cancel your membership, please download and complete the form above and then submit it to Jay Cattron at jcattron@carlislefamilyymca.org.