Coronavirus Updates
YADC & NEW FRONTIERS DAY CAMP UPDATE
May 22, 2020
Due to The COVID-19 pandemic, I am spending a lot of time in webinars, meetings and cohorts with the Centers for Disease Control and Prevention and the American Camping Association to get the most up-to-date guidelines for summer camps. We are discussing everything from screenings to touchless sign-in to group size to disinfecting everything to safe distancing and much more. We want to make sure we are doing everything we can to provide a safe, fun summer for our campers, families and staff.
Below are some general changes for YADC and New Frontiers Day Camp that I want parents to be aware of:
Q:
Are you still running YADC and New Frontiers Day Camp?
Yes, the summer camp staff has been working very hard to make sure camp will run safely beginning June 8, 2020 for both YADC and New Frontiers.
Q:
What if my child can no longer attend camp or we do not feel safe sending our camper?
Any parents who do not feel comfortable sending their campers who already registered for YADC or New Frontiers Day Camp must e-mail me by Friday, May 29, 2020 to get a full refund. Spots for both New Frontiers and YADC are limited and once you cancel your spot(s) will be released. If you do not submit a cancellation request two weeks prior to your registered week, our cancellation policy will be used.
Q:
Will campers still be going on field trips?
Due to the local busing company not providing transportation for the month of June and public entertainment being closed, our June field trips have been changed to guest speakers/entertainers coming to the YMCA. That schedule is still being finalized and will be sent out once confirmed.
Q:
How will New Frontiers campers get to the farm?
With our local busing company not providing transportation for the month of June, we are limiting the number of campers to 24 each week and will be busing them out to camp using YMCA transportation. We are looking into an option for on-site drop off for those parents who have means to do so, but at the moment you will see a limited number of spots for New Frontiers so we can provide transportation safely to and from camp each day.
I want to thank all of our summer camp parents and campers for choosing the Carlisle Family YMCA. I am dedicated to providing a safe summer for our campers and staff. I know how important friends and outdoor play are and want to provide camp this summer in a way that is safe for everyone. Please feel free to e-mail me with any questions.
Sincerely,
Brittany Rose, Camping Services Director
CARLISLE FAMILY YMCA
INFORMATION ON JUNE MEMBERSHIPS
May 19, 2020
Dear Carlisle Family YMCA Community,
We are excited that Cumberland County will be moving into the Yellow Phase at the end of this week. While we still do not know when we will be able to re-open, we are glad to be taking steps in the right direction.
MEMBERSHIP OPTIONS
We eagerly anticipate re-opening in June so we will draft June membership dues as usual. Please know that we are working on a plan to resume services as soon as we are able. We ask that you please continue to #staywithus during this time.
We are offering the same options for membership in June that we did in April and May. Below are your options:
Remain a Sustaining Y Member – We hope you are able to stay with us and sustain us by continuing to pay your membership dues. In doing so, you will help us to create virtual content to support you and your family and prepare diligently for your return.
1-Month Membership Hold – This option places your membership on hold for one month. It will automatically restart in July 2020. If you need to put your membership on HOLD, please use our website contact form to let us know no later than 4pm on Friday, May 29, 2020. We will not be able to process holds after this date. If you recently terminated your membership but would rather put it on hold, please e-mail Jay Cattron at jcattron@carlislefamilyymca.org. Please Note: If you already put your membership on hold in April or May, it will automatically be extended to June. However, if you would like to take your membership off hold and become a Sustaining Member for June, please e-mail Jay Cattron by May 29, 2020.
Go Above and Beyond – If you are able and would like to donate additionally to help fund the Y's efforts to provide community services, you can make a secure online donation. Any amount is valued and appreciated.
DONATE NOW!
These past months have been very difficult for our community. And while it hasn't been ideal, we accepted the challenge of connecting with you in different ways while our building is closed.
We continue to offer daily live workouts on Zoom, as well as other tips and information for you and your family to stay healthy and active. Read the blogs on our website, and visit our Facebook page and YouTube channel for the most up-to-date offerings and information.
Together, we will be stronger than ever. Thank you for sticking with us and being part of our Y family.
Sincerely,
Marcia Drozdowski, Chief Executive Officer
CARLISLE FAMILY YMCA
MY FIRST OVERNIGHT UPDATE
May 14, 2020
My First Overnight has been postponed until June 29-July 1, 2020. If that means you now need summer camp for your child beginning June 8, we have spots available in both YADC and New Frontiers. Register here. If you cannot make the new date, a full refund will be issued or we can transfer the funds paid to another week you plan on attending camp.
Camping Services Director Brittany Rose has been reaching out to campers' families individually. If you have not heard from her yet or have questions, please e-mail brose@carlislefamilyymca.org.
CAMP THOMPSON DAY CAMP UPDATE
May 13, 2020
The bus company that we use for transportation of campers to and from Camp Thompson during Camp Thompson Day Camp is not operating until July at the very earliest due to COVID-19 concerns.
Unfortunately, this has caused us to cancel Camp Thompson Day Camp for 2020.
Camping Services Director Brittany Rose has been reaching out to campers' families individually. If you have not heard from her yet and still have questions after reading the FAQ below, please e-mail brose@carlislefamilyymca.org.
Q:
Why is Camp Thompson Day Camp cancelled?
We cannot operate this camp without transportation to and from Camp Thompson.
Q:
Will you offer a week of day camp at the Y during this week instead?
At the moment we are discussing a possible replacement camp for that week that would be locally based at the YMCA, but nothing has been decided yet. If we decide to do this, families who were registered for Camp Thompson Day Camp would have the option to register for this week before we open it up to other families.
Q:
Will I receive a refund?
Yes, everyone registered for Camp Thompson Day Camp will receive a full refund. However, if your child is signed up for other camps and still has a balance for those camps, the refund will be applied to that balance first. If anything remains after those balances have been fulfilled, that amount will be refunded.
Q:
Are you going to still have your other summer camps?
Yes, it is still our plan to hold Youth Adventure Day Camp, New Frontiers Day Camp and all resident camps at Camp Thompson this summer adhering to safety recommendations. Staff are busy preparing to provide a safe and fun summer for campers. We look forward to seeing them beginning June 8!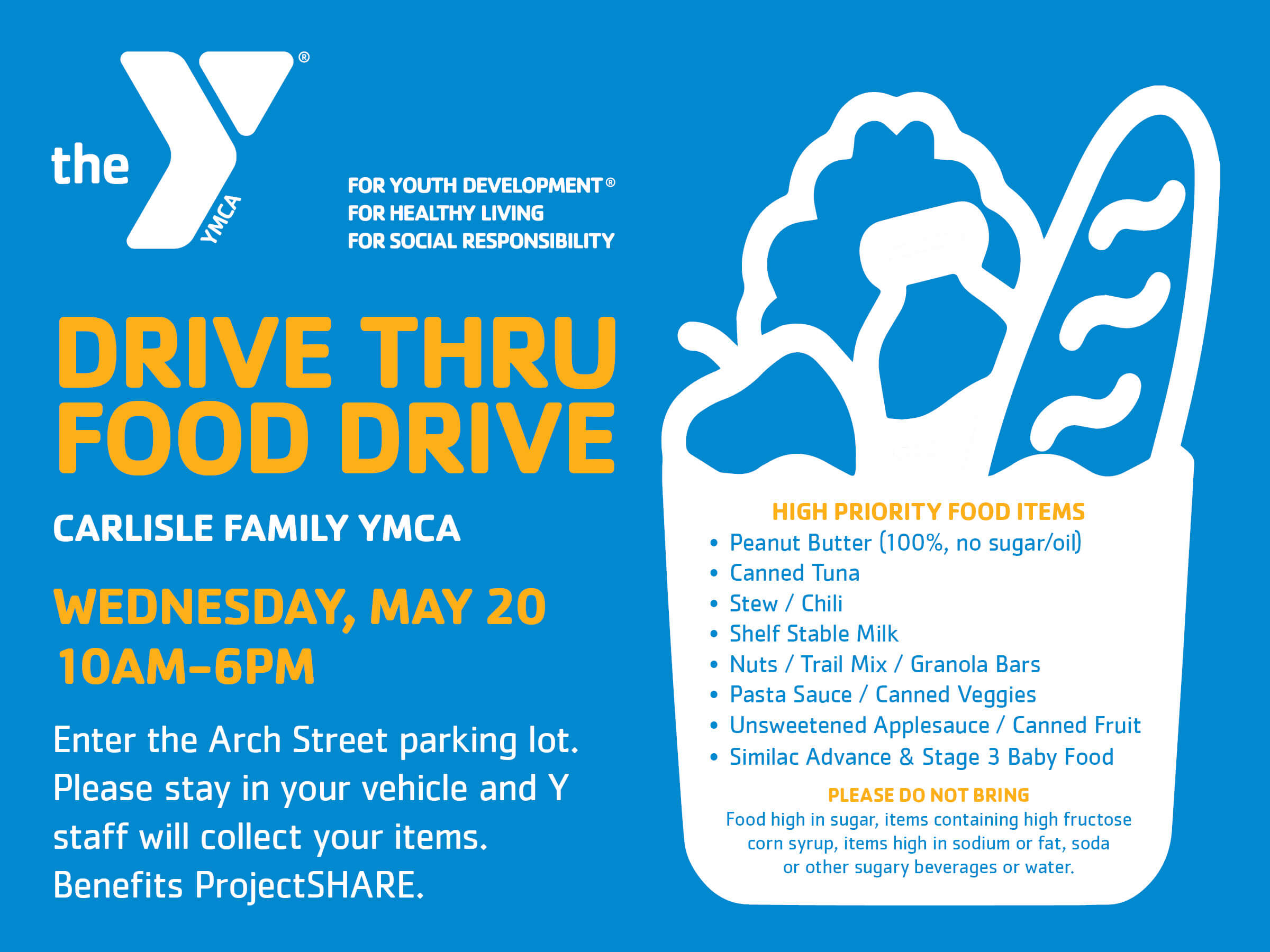 Y STEPPING UP TO HELP MEET NEEDS
May 12, 2020
In the recent survey we sent out, many of you indicated that you would like to see the Carlisle Family YMCA doing more to help the vulnerable members of our community–specifically by providing food and information on where to get food. So we have compiled some information on both how to donate food and how to get food if you need it.
DRIVE THRU FOOD DRIVE AT THE Y
We are holding a Drive Thru Food Drive on Wednesday, May 20, 2020 from 10am-6pm at the Y. The Carlisle Area School District's final food distribution for the school year will take place Friday, May 22. Many families will need to find other ways to replace that food each week. Help us help our neighbors by donating food that will be delivered to ProjectSHARE.
Enter the Carlisle Family YMCA's Arch Street parking lot near the child care play area. Please stay in your vehicle and Y staff will collect your items. Then exit the parking lot on the other side of the Arch Street parking lot.
HIGH PRIORITY FOOD ITEMS:
Peanut Butter (100%, no sugar/oil)
Canned Tuna
Stew / Chili
Shelf Stable Milk
Nuts / Trail Mix / Granola Bars
Pasta Sauce / Canned Veggies
Unsweetened Applesauce / Canned Fruit
Similac Advance & Stage 3 Baby Food
PLEASE DO NOT BRING: Food high in sugar, items containing high fructose corn syrup, items high in sodium or fat, soda or other sugary beverages or water.
FOOD DISTRIBUTION TASK FORCE VOLUNTEERS NEEDED
A local group is mobilizing to address anticipated increases in demand for food in the greater Carlisle area. We are looking for volunteers who are interested in helping deliver food to families in need. If you are able to help in this way, please contact Marketing Director Michelle Bell at mbell@carlislefamilyymca.org.
FOOD AVAILABLE FOR THOSE IN NEED
Are you worried about feeding your family? Please come pick up a bag. Anytime. No questions asked. Take what you need anonymously. Click here for addresses for pickup in Carlisle, Boiling Springs and Mt. Holly Springs. If you are interested in donating to this specific cause, addresses for donations also are provided in the link above.

DO WE HAVE YOUR CURRENT E-MAIL ADDRESS ON FILE? SEND US A MESSAGE TO CONFIRM YOUR E-MAIL ADDRESS TODAY.
CLEARING UP CONFUSION: NON-PROFIT YMCA EXEMPT FROM HEALTH CLUB ACT
The Pennsylvania Health Club Act announced by PA Attorney General Josh Shapiro in early April instructed health clubs to refund membership fees once the facility has been closed for at least 30 days and stop billing members while the facility is shut down.
The Attorney General provided several exemptions, one of which is, "Bona fide non-profit religious, ethnic, community or service organizations whose functions as health clubs are only incidental to their overall functions and purposes as determined by the director." The YMCA, a non-profit charitable organization, falls within this category and is exempt.
Recently, staff at the Pennsylvania State Alliance of YMCAs learned that the Pennsylvania Attorney General's office stated the following: "Our consumer chief confirmed that you are correct. Ys do not fall under the Health Club Act since they are nonprofits."
As a cause-driven organization, the Y offers programs to meet critical community needs, including Child Care, Before- and After-School Care, Summer Camp, Aquatic Programs, Swim Instruction, Youth Programs, Sports Leagues, Wellness Programs and Special Events in addition to facility access. Last year, the Carlisle Family YMCA provided $283,721 in financial assistance to enable all individuals to access our facility and programs regardless of their ability to pay.
While the Y is exempt from the stipulations of the Health Care Act, we have been in direct communication with our members and have provided them with several different options regarding their memberships, including membership holds. If you have any questions regarding your membership, please don't hesitate to reach out through our website contact form.
We appreciate your continued support during this difficult time and look forward to seeing you soon.
FREE VIRTUAL WORKOUT OPTIONS
MEMBERSHIP TERMINATION FORM
If you need to cancel your membership, please download and complete the form above and then submit it to Jay Cattron at jcattron@carlislefamilyymca.org.