Coronavirus Updates
September 30, 2021
One lap lane is available for reservations at all times. Other lanes may be open for lap swimming. Look at the Pool Schedule to see the total number of lap lanes available during the time you want to swim. The lane # in red is the lane available for reservations.
POOL SCHEDULE
July 30, 2021
GUEST POLICY UPDATE
Beginning August 1, we will allow guests under 18. Please note:
All guests must be accompanied by a member at all times.
Guests must sign in, present a photo ID and pay the appropriate guest fee at the Welcome Center.
Teen members may only bring one guest per visit. The guest also must be 13 or older.
Youth guests must be supervised by an adult member.
Check out the full guest policy below.
GUEST POLICY
May 28, 2021
BASKETBALL GYMNASIUM UPDATE
We no longer require reservations to use the basketball gymnasium. View the schedule below. It also will be posted outside the gym.
GYM SCHEDULE
The process for reserving a lap lane, rec swimming slot or spot in any of our in-person and virtual fitness classes remains the same. Click here to learn more.
SAUNAS NOW OPEN
April 19, 2021
Members can use the saunas in the new Women's Locker Room and the Men's Locker Room. The steam room in the Men's Locker Room will remain closed.
We are limiting the capacity to 2 people at a time. While we will not have staff in the locker rooms to monitor this, we trust that everyone will comply with this restriction. If we receive complaints that more than 2 members are using the sauna at the same time, we will be forced to close them again.
Thank you for your cooperation.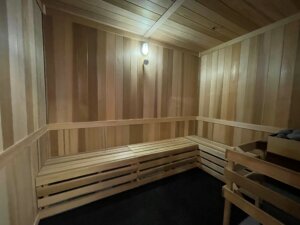 March 30, 2021
We recently revisited our current protocols in some areas of the Y and made the following updates: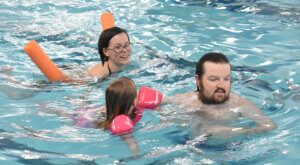 REC SWIMMING CHANGES
We are making two changes to our Rec Swimming Protocols:
KEEPING KIDS SAFE IN THE POOL!
During Rec Swimming, children ages 12 and under must wear a color wrist band that matches their swimming ability:
Red = under 9 and non swimmer (parent must be in the water with them at all times)
Yellow = 9 and over but cannot swim (stay in the shallow end)
Green = swim anywhere (if under 9, a parent must be on the pool deck with them at all times)
When you check in you will pick up the appropriate color wrist band at the Welcome Center, according to the child's most recent swim test in our system. If the child has not taken a swim test, he or she will be given a red or yellow band based on age. Children can test out of their current level by seeing the lifeguard on duty before swimming to take the swim test*.
If a child enters the pool area without a wrist band, he or she will be asked to go back to the Welcome Center to get a band before swimming.
*The swim test consists of swimming 1 length of the pool with rotary breathing and treading water for 1 minute in the deep end of the pool.
Questions? Contact Aquatics Director Tara Young at tyoung@carlislefamilyymca.org or 717-243-2525 ext 210.
REC SWIMMING RESERVATIONS UPDATE
You do not have to be in the same household to reserve the pool for Rec Swimming. Please note that there is a limit of 6 people per reservation slot. If you have 10 people in your group, you need to reserve two slots for Rec Swimming or 4 of the people in your group will not be able to swim.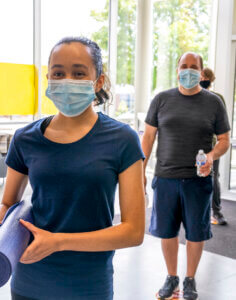 NATIONWIDE MEMBERSHIP
Members from other Ys now can use our facility. All nationwide members must sign our COVID waiver. Please note that just because we are resuming this aspect of membership, this may not be the case for every Y. For instance, Harrisburg YMCA branches are only allowing Wellness Center and lap swimming use. We recommend contacting any Y in advance that you plan to attend to find out about their current availability. Learn more about Nationwide Membership.
DID YOU KNOW?
A cancellation link can be found at the bottom of your confirmation email for the following reservations:
LAP SWIMMING
REC SWIMMING
IN-PERSON CLASSES
VIRTUAL CLASSES
If you need to cancel your spot and it is more than 1 hour before the start of the class or session, just click the link and follow the prompts so someone else can claim your spot.
ADULT WAIVER
MINOR WAIVER

DO WE HAVE YOUR CURRENT E-MAIL ADDRESS ON FILE? SEND US A MESSAGE TO CONFIRM YOUR E-MAIL ADDRESS TODAY.
MEMBERSHIP TERMINATION FORM
If you need to cancel your membership, please download and complete the form above and then submit it to Jay Cattron at jcattron@carlislefamilyymca.org.